Wonderful Church Bulletins
Sermon this morning: "Jesus is Walking on the Water". The sermon tonight:' "Searching for Jesus.'
Ladies, don't forget the rummage sale. It's a chance to get rid of those things not worth keeping around the house. Bring your husbands.
Miss Charlene Mason sang 'I will not pass this way again,' giving obvious pleasure to the congregation.
And finally
Don't let worry kill you off – let the Church help.

WHY ARE THOSE WOMEN WEARING RED?
February is American Heart and Stroke Prevention Month. Lots of us are wearing red dresses to remind you to make a few small changes for a healthier heart.
Here are suggestions from Donald Lloyd-Jones, MD, Chairman of the Dept. of Preventative Medicine at Northwestern University Feinberg School of Medicine.
If you smoke, quitting should be your first priority.
Drink more water. Substitute for soda.
Stay weight stable. Even before trying to lose, make a plan not to gain. Eat real food including lean protein. Grab fresh fruits and veggies instead of sweets for snacks.
Be Active. 150 minutes of moderate exercise per week is recommended. Try 3 10 minute segments a day where you raise your heart rate.
Sweet Sleep not only helps weight control and blood pressure, it increases your alertness and decreases cravings for junk food.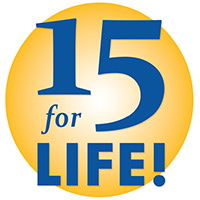 Here's how we'd like to reduce your heart stress: 15 For Life!, a remarkable life insurance platform that earns available, tax free money, can provide access to Long-Term Care and lets you choose to pay premiums for only 15 years after which your benefits continue to grow.
This month, pick any of the ways (including a call to us) to make your heart happy. A change in this short month, could make for a long, healthy life.